Sagging skin and wrinkles can make you look much older than you feel. Creams and other treatments can only do so much to address aging.
At The Landings Surgical Centre, our surgeons can perform a face lift to smooth wrinkles for a dramatically more youthful appearance.
So why should you consider a facelift at our Halifax, Nova Scotia, practice serving greater Prince Edward Island?
Reverse Signs of Aging
with Face Lift Surgery
Overall More Youthful Appearance
During face lift surgery,
Dr. Richard Bendor-Samuel
and
Dr. Louis Boileau
will
remove excess skin and smooth wrinkles
caused by sun damage or other factors. This process can address signs of aging that make you look tired, unhealthy, or heavier than you are.
Better Facial Definition
Also known as rhytidectomy, a face lift can tighten underlying muscles and refine the contours of your face to restore the definition of your features.
Improved Self-Esteem
After a face lift procedure at our office, patients can expect to look younger, healthier, and more rested. This treatment can provide a renewed sense of self-confidence and even affect your quality of life.
Let's explore the different techniques which are available at our Halifax practice...
Does a face lift really provide such dramatic results?
The Majority of Patients
Are Satisfied with Their Appearance
Types of Facelifts
Review Your Options
Full Facelift
This traditional version of the procedure can enhance your entire face, including your eyebrows, neck, and the area under your eyes. A full facelift may be the solution if you want to eliminate sagging skin in your mid and lower face, deep wrinkles below your eyes, jowls or a double chin, deep wrinkles or lines below your mouth, and fallen pockets of fat. The incisions for a full facelift will extend from your temples and around your ears to the back of your hairline. Since we will address the facial muscles, as well as the skin, a full facelift can achieve subtle and natural-looking results.

Mid Facelifts
This facelift addresses the tissue just below the eyes and near the cheeks. The incisions will be smaller and deeper than the incisions made in a traditional facelift. This allows for greater access to the muscles in this area. This procedure is best suited for patients who simply want minor enhancements, rather than a more comprehensive approach. Facial implants or fat grafting are sometimes used in a mid facelift or instead of a mid facelift.
Mini Facelifts
A mini facelift targets a much smaller area of your face. This option can be an effective way to address sagging around your cheeks and deep creases around your mouth and nose. For this facelift type, we will place smaller incisions in front of your ears, extending to just under your earlobes, allowing us to raise the muscles around your cheeks and nose. If you have just started to show signs of aging, a mini facelift may be right for you.
Lower Facelift
This type of facelift targets the bottom third of your face. This method of facial cosmetic surgery can reduce smile lines around the mouth, eliminate jowls, enhance the look of your jaw, and lift corners of the mouth. This type of facelift is appropriate for anyone wishing to gain a more youthful appearance and is suitable for patients of all ages.
Augmenting Your Facelift
To help enhance facelift results, patients sometimes
undergo additional lift procedures
, including
neck lifts
,
brow lifts
, and
blepharoplasties
. Neck lift surgery can
reduce loose skin on your neck
, deep creases or a banded effect, jowls or a double chin, and hanging skin between your chin and neck. A brow lift can
eliminate deep horizontal creases in your forehead
, sagging in your upper face, frown lines, and drooping skin around your eyes. A blepharoplasty or eyelid lift can
reduce drooping upper or lower lids
, bags or creases below your eyes, and displaced fat deposits below your eyes or in your eyelids.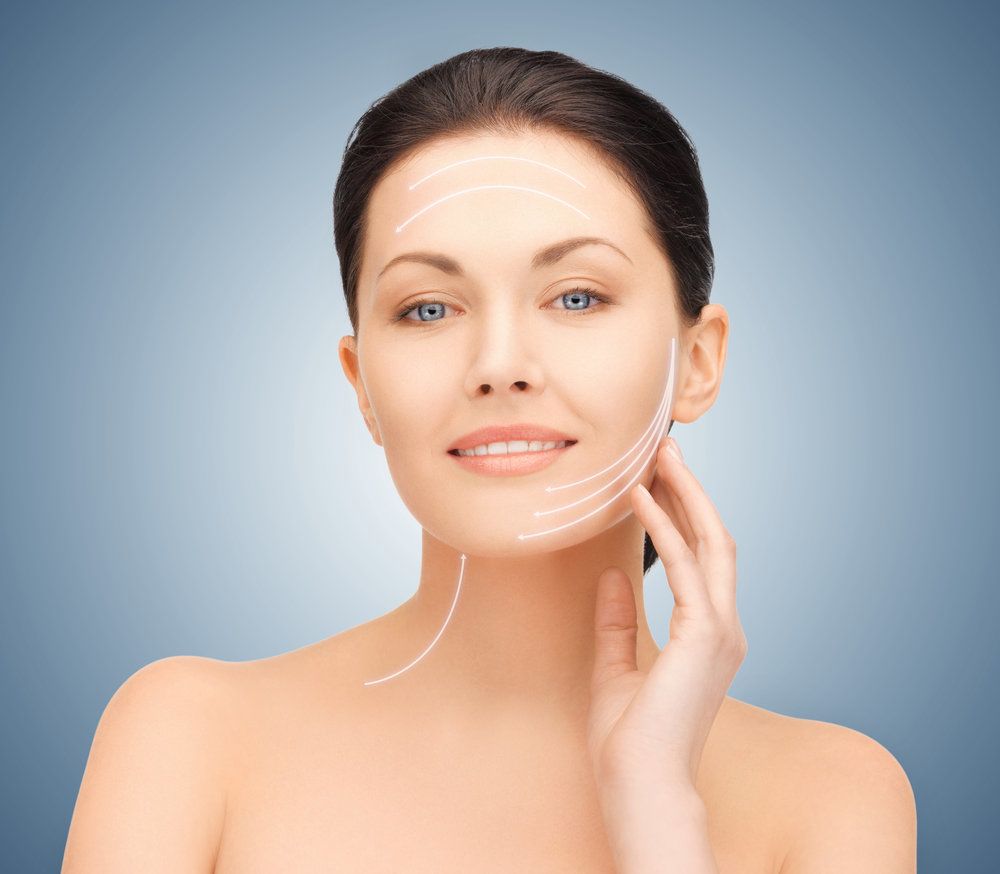 The Facelift Procedure:
What to Expect
During the facelift procedure at our Halifax practice serving greater Prince Edward Island, the surgeon creates incisions behind the ear and around the earlobe. Next, facial skin and underlying tissues and pulled upward and repositioned. Excess skin is trimmed away. An extra incision may be created below the chin to remove excess fat and tissue from the area and smooth out the underlying muscles for a more natural look. The result is a younger-looking, more refreshed appearance.
Recovery
from Facelift Surgery
First Few Weeks
Most facelift patients are able to return to their normal activities approximately two weeks after surgery, depending on the extent of their procedure. Individuals who undergo more complex facelift procedures may need up to four weeks to fully recover.
Final Results
Because the healing process is gradual, patients should expect to wait several weeks to see the final results of their face lift procedure. Because facelift incisions are placed in inconspicuous locations behind the hairline and ear, they usually remain very well concealed. The incisions can also be hidden with makeup.
Long-Term Care
Patients are recommended to use sunscreen of SPF 15 or higher for at least one year because skin will be sensitive.
When Is a Good Age for Facelift Surgery?
Many people often ask what the ideal age is to undergo facelift surgery. Because each individual ages in their own unique way, there is no definite age. Patients who are younger and do not require a dramatic transformation can usually undergo alternative procedures such as a brow lift, eyelid surgery, chemical peel, or dermabrasion. A mini face lift can also be a good alternative to a full facelift for patients with less skin laxity. Our skilled cosmetic surgeons can determine whether or not face lift surgery is appropriate for you during your initial consultation. If it is not, they will suggest alternative treatment options.
Once an individual is considered a good candidate for facelift surgery, our surgeons will evaluate the texture, elasticity, and thickness of the skin, as well as the structure of the face. Different types of facelifts are custom-tailored and designed to meet each patient's specific needs. To schedule an initial consultation for face lift surgery, please contact The Landings Surgical Centre in Halifax today. We proudly serve greater Nova Scotia.
Not Ready for a Facelift?
Non-Surgical Facelift Alternatives
Injectable Treatments
We offer a variety of injectable skin treatments including
BOTOX® Cosmetic
and
dermal fillers
. By placing BOTOX injections at carefully planned locations, we can reduce the habitual movements that cause wrinkles. Dermal fillers can fill in deep creases, especially around your mouth and nose, to reduce scars or enhance facial volume. Neither of these treatments is permanent, but if you like the results, they can be maintained through regular touch-up treatments.
Skin Resurfacing
Fine wrinkles, scars, and irregular pigmentation are often located on the outermost layers of your skin. Through a variety of skin resurfacing procedures, we can
remove the damaged tissue so the healthy skin below can take its place
. Common treatments include
microdermabrasion, dermabrasion, and chemical peels
. During microdermabrasion, we will direct a stream of air containing thousands of microscopic particles at the treatment area to remove the top layer of skin. During a chemical peel, a chemical solution is applied to the treatment area to rejuvenate the skin or even target scars and pigment irregularities.
Dermabrasions
are a more in-depth alternative to microdermabrasions and are consequently only recommended in certain cases.
Clinical Skin Care
Through collagen induction therapy (CIT), or micro-needling, we can improve skin elasticity. Since these treatments will stimulate natural collagen production, results can last for months, or even years.
During CIT, we will treat your skin with a roller, containing tiny needles. By creating microscopic punctures, the skin roller will stimulate your body's natural healing process. In turn, this will increase collagen levels. You will enjoy smoother, younger-looking skin with only minor irritation and virtually no downtime.
We also offer a variety of advanced skin products. These topical creams, makeups, and sunscreens are more effective than those available at the drug store. Additionally, we can carefully evaluate your needs, choosing the treatment regimen that will yield the most effective results.
The Landings Surgical Centre

Our office is designed to feel warm and welcoming.
Our surgeons have the training and expertise to provide the beautiful results you deserve. Drs. Bendor-Samuel and Boileau are members of several esteemed organizations, such as:
Royal College of Physicians and Surgeons of Canada
Canadian Society of Plastic Surgery
Doctors Nova Scotia
Atlantic Plastic Surgery Society
Canadian Medical Association
Schedule a consultation online or call us at (866) 928-0023 to learn more.